A thick fog envelopes the Los Angeles skyline. You hear nocturnal neighborhood creatures at every turn. And everywhere you go offers something pumpkin-flavored for a limited time only. You retrieved the decorations from that impossible-to-reach section of your closet, purchased the best miniature edition candy from the sale aisle, and updated an old costume to be culturally relevant for 2019. With your home decorated and your costume taken care of, there's only one thing left to do: celebrate the Halloween season out on the town.
I Like Scary Movies exhibition can be found in a secret DTLA location with groundbreaking art experiences that serves as a true celebration of popular horror films. The interactive art provides excellent selfie opportunities! The Shining, It, Beetlejuice, A Nightmare on Elm Street, and Friday the 13th are all represented including the infamous red carpet from the Overlook hotel, the Netherworld Waiting Room, Freddy's boiler room, Pennywise's Lair, and Camp Crystal Lake.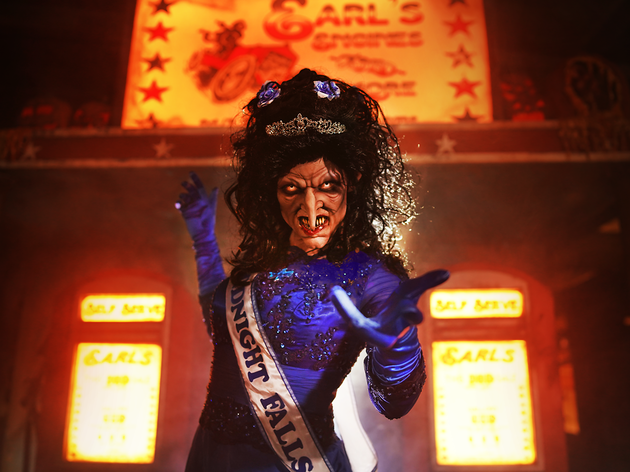 The Haunted Hayride continues to bring the screams to Griffith Park for another year. Along with the hayride, you can get lost in the Maze, escape the Scare Zone, and play Mini Escape Games. This season's theme is "Midnight Falls" where it's the 13th annual Halloween Festival… however … this strange town always celebrates Halloween and it's always 1985. But that doesn't stop citizens from enjoying the festival's bizarre celebratory offerings. Visit the Midnight Falls residents in the town square, neighborhoods, and local establishments that reveal the strange and sinister secrets behind this eerie town. 
Clifton's Republic is one of the most haunted venues in the world. They shine the faintest of lights on the dark side of favorite fairy-tales in this year's Halloween event playfully named Into The Woods. Here you will enter LA's legendary haunted forest to find out the Dark Age Macabre Tales behind the Brothers' Grimm fairy tales that still scare children today.
And finally: for over 30 years, the merchants on Olvera Street have celebrated Dia de Los Muertos. The nine-day festival includes altars, children's workshops, face painting and now incorporates the pre-Columbian, Aztec, Mayan and Catholic rituals surrounding death. Each night, a vibrant and colorful procession sets the stage for a ceremony steeped in culture, rich in history, and just the right amount of skeleton costumes to keep you in a frighteningly festive mood.
However you celebrate Halloween, this city has all the fright and fears you could ever desire.